Price

RM8,499.00

Product SKU
ALW15R3_433
Brand
Dell
Size (L x W x H)
305 mm x 389 mm x 25.4 mm
Availability
In Stock

Model

Quantity
Description
Highlight
Intel Core i7-7700HQ 6MB cache with Turbo Boost Technology up to 3.80 GHz
Windows 10 Home 64bit
16GB DDR4 2400 MHz
1TB 7200 RPM HDD + 256GB SSD
NVIDIA GeForce GTX 1060 graphics with 6GB GDDR5 VRAM
15.6 in Full HD IPS anti-glare 300-nits with G-Sync (1920 x 1080)
Multi-color RGB backlit keyboard with AlienFX lighting controls and numeric keypad
Alienware HD+IR presence detection camera, Windows Hello capable
Alienware Sound Center, 7.1 Digital Audio out using HDMI out connection
99WHr lithium-ion
1 Year ProSupport: Next Business Day Onsite Service
1 Year Local Manufacturer Warranty
Alienware 15 R3 Gaming Laptop
Highlights
Intel Core i7-7700HQ 6MB cache with Turbo Boost Technology up to 3.80 GHz

Windows 10 Home 64bit

16GB DDR4 2400 MHz

1TB 7200 RPM HDD + 256GB SSD

NVIDIA GeForce GTX 1060 graphics with 6GB GDDR5 VRAM

15.6 in Full HD IPS anti-glare 300-nits with G-Sync (1920 x 1080)

Multi-color RGB backlit keyboard with AlienFX lighting controls and numeric keypad

Alienware HD+IR presence detection camera, Windows Hello capable

Alienware Sound Center, 7.1 Digital Audio out using HDMI out connection

99WHr lithium-ion

1 Year ProSupport: Next Business Day Onsite Service

1 Year Local Manufacturer Warranty
?
OPERATING SYSTEM
With Windows 10 Home – Break down boundaries and immerse yourself in the game with graphics more realistic than ever before thanks to the multi-thread scaling capabilities of the new API DirectX 12.

STAY IN THE GAME.
Experience gaming on a whole new level with a next-generation NVIDIA® GeForce® GTX 10-series GPU or Radeon™ RX Series GPU. Harness enough power to fuel 100W graphics cards, as well as overclocked Intel® Core™ 7th Gen/Intel® Core™ i7/i7K-Series processors – allowing for 4k gaming and ready for VR.

The Alienware 15 supports DDR4 memory with capacities ranging from 8GB to 32GB and speeds ranging from 2400 MHz to 2667 MHz delivering exceptional experiences as well as a roadmap for upgrades.

The Alienware 15 is the perfect balance of power and portability and is made with premium materials for an overall higher quality build. Magnesium alloy ensures structural rigidity, anodized aluminum provides protection, copper allows for optimal thermal management for maximum performance, and reinforced steel contributes to the overall tactile comfort.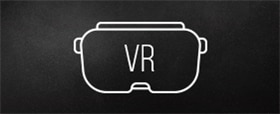 With the addition of the NVIDIA 10-series graphics and the latest generation of Intel® processors, the Alienware 15 is capable of producing high-end VR experiences.

Windows Hello uses your face as a biometric login, securing your system in a more personalized fashion. And with Tobii Aware software, your battery life and overall system power will be dimmed or amplified based on your actual presence.

The Alienware Graphics Amplifier enables future-proofing of upgradeable full-length, dual-wide graphics and additional 4-port USB 3.0 hub for added peripherals. With a dedicated PCI-Express X4 Gen 3 with up to 40Gbps throughout, you never have to worry about the disadvantages that come with a shared connection.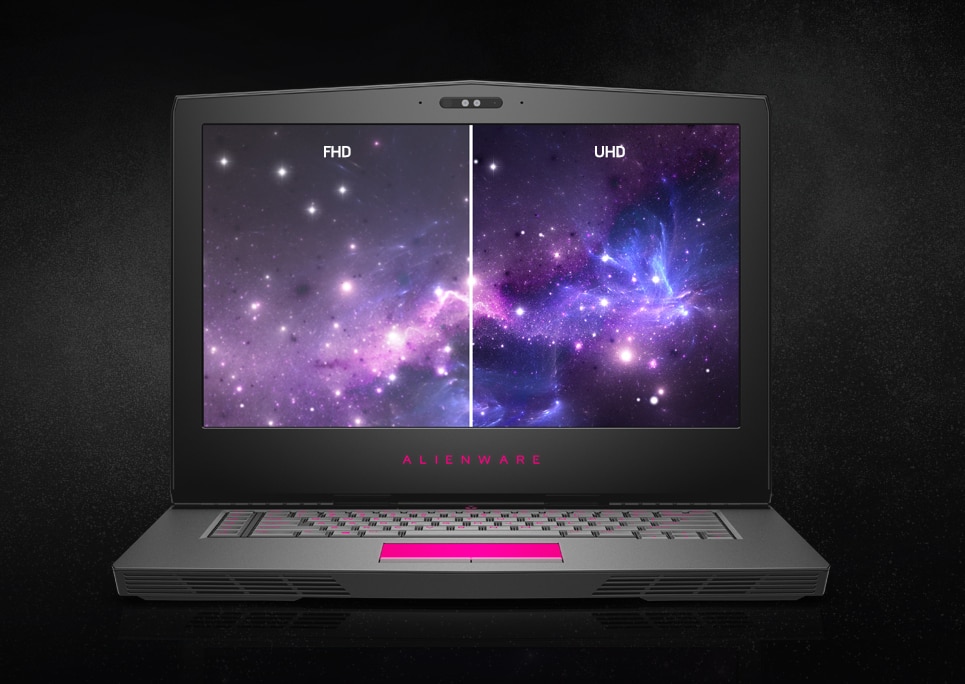 NOTHING BETWEEN YOU AND GAMING.
Witness the difference an expansive 15" LCD screen can make with supported FHD, NVIDIA G-SYNC enabled FHD 60Hz, NVIDIA G-SYNC enabled FHD 120Hz and UHD resolution options – all with anti-glare finishes.

The 15" FHD 120Hz display is designed to deliver the smoothest gaming experience with 4ms response time, wide viewing angles, 400 nits of brightness and NVIDIA G-sync technology on select modules. NVIDIA G-sync delivers the smoothest a fastest experience ever thanks to its ability to synchronize display refresh rates to the GPU in your GeForce GTX-powered PC, eliminating screen tearing and minimizing both display stutter and input lag.
METICULOUSLY DESIGNED TO DELIVER A KNOCKOUT PERFORMANCE.
An innovative hinge-forward design brings the thermal shelf to the rear, enabling a variety of improved benefits – like a thinner overall design while increasing performance, better ventilation, higher quality sound and external ports organization – to stand out for an incredible gaming experience.

A KEYBOARD LIKE NO OTHER.
With an upgraded Alienware TactX keyboard, n-key rollover is now supported, enabling over 108-key commands for maximum actions per minute. It's the only keyboard on a laptop with 2.2mm of key travel allowing for rapid response for any keystroke. Plus, it's reinforced with a steel back plate for rigidity and uniform feedback with a guarantee to stay functional for up to 10 million keystrokes.

Created more personalized look for your machine with new and improved AlienFX. Designed with optimized RGB-LED enabled AlienFX lighting and now supported on over 130 games with the option to create and download unique themes.

DESIGNED TO KEEP COOL.
Higher maximum thermal design power (TDP) support means that your system can handle a higher total wattage for internal components, enabling a higher level of performance. With the entire ventilation system upgraded, your system can stay cool even under extreme graphics pressure.

HEAR EVERY BATTLE CRY.
Due to the upgraded design, a larger and more effective speaker box has been installed, improving audio output for a clearer and more dramatic gaming experience.

CLEAR THE DESKTOP & THE BOARD.
Avoid excess cables and embrace the "desktop mode" design, where most of your critical connections and ports are in the back and out of the way.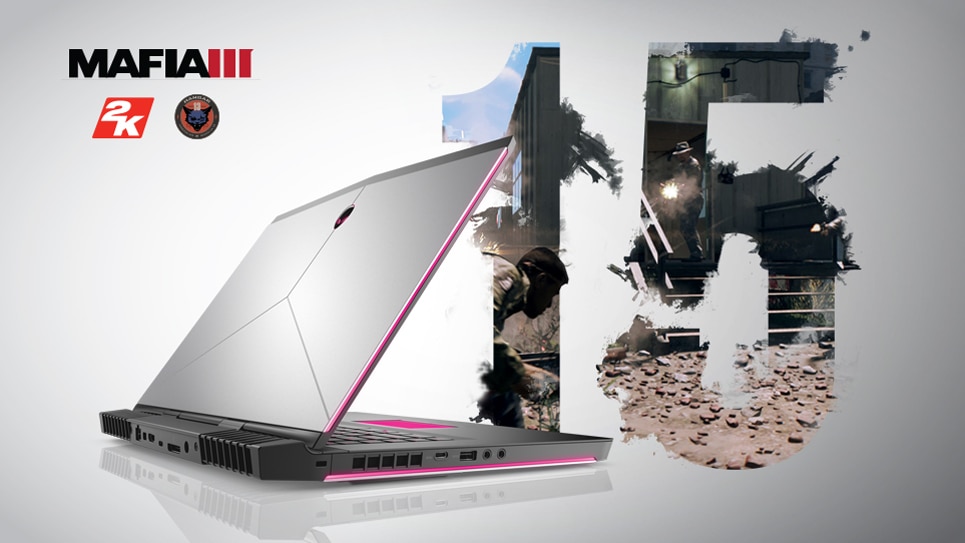 TECH THAT GAMERS NEED.
The Alienware 15 has been upgraded to give gamers the tools they need to be the best.

Killer™ Wireless: Killer DoubleShot™ Pro provides a wired and wireless networking setup that prioritizes internet traffic and data stream to the applications most important to you.

Thunderbolt Type-C port: Upgrade to multiple port options with a multi-use port ready to be used as a USB 3.1 port offering 10Gbps of data transfer, a Thunderbolt connection capable of 40Gbps, or a Display Port enabling various monitors supporting the DP protocol.

Gain the advantage: Solid-state drives (SSDs) allow your game to load faster, make virtually no noise and have less failures because they have no moving parts. A quieter system means you can better pinpoint every footstep your enemy makes.

Longer battery life: The new Alienware 15 can support up to 11 hours of battery life, as tested with the 99 Whr battery and an FHD LCD configuration.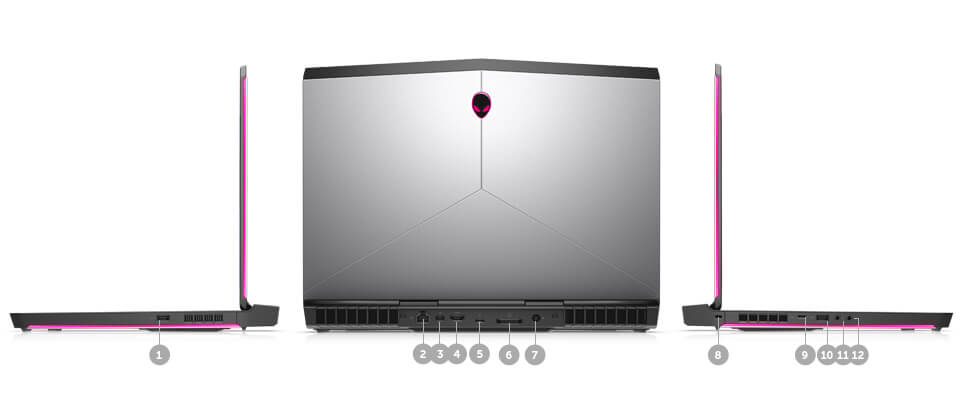 PORTS & SLOTS
1. Type-A SuperSpeed USB 3.0 Port | 2. RJ-45 Killer Networks e2500 Gigabit Ethernet Port | 3. Mini-Display Port 1.2 (certified) Output | 4. HDMI 2.0 Output | 5. Thunderbolt™ 3 Port | 6. Alienware Graphics Amplifier Port | 7. Power/DC-in Jack | 8. Noble Lock port (cable and lock sold separately)| 9. Type-A SuperSpeed USB 3.0 Port| 10.Type-A SuperSpeed USB 3.0 Port with PowerShare Technology | 11. Headphone 1/8" Port (retaskable for Microphone/Line-In analog audio input) | 12. Audio Out 1/8" Ports (Compatible with inline mic headset)

DIMENSIONS & WEIGHTS
1. Height: 25.4mm (1 inch) | 2. Width: 389mm (15.3 inches) | 3. Depth: 305mm (12 inches) | Average Weight: 3.49 kg (7.69 lbs)
CPU / Processor

Intel Core i7-7700HQ 6MB cache with Turbo Boost Technology up to 3.80 GHz

Memory

16GB DDR4 2400 MHz

Storage

1TB 7200 RPM HDD + 256GB SSD

Graphic Card

NVIDIA GeForce GTX 1060 graphics with 6GB GDDR5 VRAM

Display Screen / Design / Resolution

15.6 in Full HD IPS anti-glare 300-nits with G-Sync (1920 x 1080)

Camera

Alienware HD+IR presence detection camera, Windows Hello capable

Operation System

Windows 10 Home, 64-bit

Audio & Video

Alienware Sound Center, 7.1 Digital Audio out using HDMI out connection

Network / Connectivity Technology

Killer 1535 802.11ac 2x2 WiFi (Miracast enabled)
Bluetooth 4.1

Interface

1 Type-A SuperSpeed USB 3.0
1 Type-A SuperSpeed USB 3.0 PowerShare
1 Type-C SuperSpeed USB 3.0
1 Thunderbolt 3
1 Alienware Graphics Amplifier
1 HDMI 2.0 output
1 Mini-DisplayPort 1.2 output
1 Audio Out 1/8" (compatible with inline mic headset)
1 Headphone 1/8"
1 Power/DC-in jack
1 LAN (RJ-45)
1 Noble lock port

Battery / Power Supply

99WHr lithium-ion

Dimensions

Height:

25.40

mm
Width:

389.00

mm
Depth:

305.00

mm

Weight

3.49Kg
We ensure you that our main focus will be in quality of the products. We will make sure that customers get the best quality from us and we serve customers as V.I.P.
We'll make sure customers will feel comfortable throughout their shopping. If they require our assistance during their shopping, we'll provide them the best support they can find online.

For any question and order, kindly contact us, we will try our best to help you.
We prefer chat-based enquiry, so that we can keep the record.


What is the default courier service ? Can i use others courier service ?
Every order is sent out using POS LAJU unless specified. Kindly sends us a PM or mail if you prefer others courier service that being listed down.
When is the daily cutoff for order/dispatch ?
Our cutoff time for postage is 2pm daily, all items are dispatched the same day if received before 2pm.
Any payment after 2pm, we will ship on the following day.
When i will receive my purchased item ?
By using the default courier service postage usually takes 1 to 3 business days.
(Excludes Saturdays, Sundays and public holidays)
What if i did not receive my purchased item ?
If you do not receive your item within 5 days, please contact us and we will follow up closely.
Reviews (0)
view all
back
What's in the box
What's in the box
1 x Alienware 15 R3 15.6" FHD Gaming Notebook (i7-7700HQ,1TB+256GB,16GB,GTX1060-6GB-DDR5-VRAM)

1 x Free Kaspersky Anti Virus
Warranty
1 Year Local Manufacturer Warranty